CFAT News | Open message of thanks for your incredible support this academic year
CFAT News | Open message of thanks for your incredible support this academic year
13 July 2021 (by admin)
Open message of thanks from Ruth Rule-Mullen, Chair of Trustees Community First Academy Trust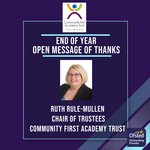 13th July 2021
Dear all,
Open message of thanks for your incredible support this academic year
As we draw towards the end of the academic year, I hope that this letter finds you and your family well.
Throughout the year Community First Academy Trust Board have remained mindful of the many challenges and pressures that the continued global pandemic has generated for every family.
I wish to convey my deepest gratitude and appreciation to the entire workforce and school community for its ongoing support and confidence in school despite continued unprecedented pressures. Thank you for keeping your children safe and adhering to government guidelines.
Our workforce has again worked tirelessly and responded to ever changing policy to keep things going despite at times being physically and mentally exhausted. Thank you for everything you do for our trust and pupils. I hope you get a well-earned break over the summer holidays.
The Trust Board wish to particularly thank Mrs Darbyshire for supporting you, our school, its pupils and families. Mrs Darbyshire is a strong and decisive leader who remains completely committed to the needs of our school, its employees and community no matter what the challenge. We are all truly privileged and grateful to have such a strong leader leading our school and trust.
I would like to personally thank each of our skilled Members, Trustees, Local Academy Board Governors and Kingsbridge Headteacher Board partners; for their continued governance work, expertise, challenge and support. I am extremely appreciative of the time, skill, care and attention your give to support and challenge our school and trust leaders, so that our trust, school and community thrive and our pupils and school-centred initial teacher training (SCITT) trainees have the best opportunities to succeed.
I offer my best wishes to our Year 6 pupils as they move on to their secondary schools and new adventures this coming September. I know that they have been working hard on their leavers production of Romeo and Juliet which we are extremely excited to see virtually. Best of luck in the next stage of your education at your chosen secondary schools. I very much look forward to supporting school and welcoming our new Nursery and Reception children to school in September.
As we look ahead to the summer holidays I would like to end by once again thanking you all for supporting the children at our school through the challenges of the recent times.
I look forward to working together with you again next year and I wish you all a safe and restful holiday.
Please enjoy a safe and well deserved summer break.
Yours faithfully,
Ruth Rule-Mullen
Chair of Trustees
Community First Academy Trust
Share this: