Kingsbridge EIP SCITT | March 2022 Ofsted
Kingsbridge EIP SCITT | March 2022 Ofsted
11 May 2022 (by admin)
As you are aware the partnership recently had a four-day inspection by Ofsted (7 to 10 March 2022). Our latest Ofsted report is now available for review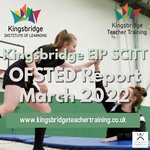 We are thrilled to inform you that under the newly introduced ITE framework the partnership has received a GOOD overall effectiveness judgement which is a fantastic achievement.
This judgement and report is testament to the hard work of each of our partnership schools, our dedicated trainees/apprentices, and Kingsbridge EIP SCITT team; THANK YOU all for supporting our teachers of the future and contributing to this well-deserved outcome.
Trainees told inspectors that leaders of the SCITT are professional and consistent in how they lead, manage and deliver training through a well-considered curriculum.
Amongst the many areas of progress, inspectors also highlighted that:
The quality of centre and school-based training successfully prepares primary and secondary trainees, including apprentices, to become early career teachers. Trainees benefit from high-quality and consistent mentoring.
All trainees who spoke with inspectors said that the partnership provides them with effective wraparound care, guidance and support. Trainees told inspectors that leaders of the SCITT are professional and consistent in how they lead, manage and deliver training.
Trainees commented that leaders think carefully and deeply about the training that they provide. They said that trainers and mentors stay up to date with educational thinking. Communication between all partners, including trainees and mentors, is a strength.
Trainees are successfully prepared to manage pupils' behaviour. Equally, trainees fully understand their important role in safeguarding pupils. All trainees appreciate how to manage their workload and the wider demands of teaching.
Trainees have a secure understanding of how to adapt the delivery of their subject curriculums for pupils with special educational needs and/or disabilities (SEND). Similarly, they receive appropriate training to enable them to teach pupils who speak English as an additional language.
Trainees, including apprentices on primary programmes, gain an insightful understanding of how to teach early reading and phonics. They also learn in depth about the early years
and about the foundation subjects of the primary national curriculum. Secondary trainees flourish because they learn about the uniqueness of their chosen subject specialism.
Colleagues should be extremely proud to welcome such positive feedback on the many areas of success that have been achieved despite grappling with COVID-19 disruption and a new ITE framework. Through the tireless efforts of everyone involved, we are delighted to see that Kingsbridge EIP SCITT remains on a very positive trajectory and we are delighted that this has been recognised by the inspection team. We have every confidence that the partnership will continue to look forward to a positive future.
Share this: