CFAT NEWS | Kingsbridge SCITT | £3000 apprenticeship employer incentive payments
CFAT NEWS | Kingsbridge SCITT | £3000 apprenticeship employer incentive payments
4 March 2021 (by admin)
Government offer boost to apprenticeships with increased employer incentive payments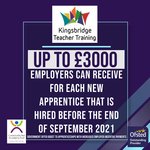 The government see the role apprenticeships can play in re-charging the economy and to support this they have confirmed an extension to the additional incentives they introduced from September 2020.
They have increased the incentive payments to £3,000 per apprentice, regardless of age, to be paid to any employer taking on a new apprentice between 1st April 2021 to 30th September 2021.
Choose Community Frist Academy Trust and Kingsbridge Teacher Training to use your school's Apprenticeship levy to recruit, retain & train the best graduates as home-grown teachers!
If you are interested in utilising apprenticeships in your organisation, please get in touch with us.
Share this: