CFAT News | A renewed vision for every school to be part of a family of schools in a strong academy trust
CFAT News | A renewed vision for every school to be part of a family of schools in a strong academy trust
19 May 2021 (by admin)
On 28th April 2021 Gavin Williamson, Education Secretary addressed the Confederation of School Trusts (CST) Annual Conference and renewed the Governments vision for all schools to be part of a multi-academy trust.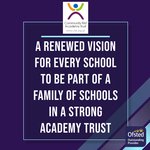 This speech is significant both for its overall messaging to the education sector and as the Launchpad for a number of new policies and initiatives (both in a local context and national).
The Secretary of State's vision is for every school to be part of a family of schools in a strong academy trust.
His speech emphasised that multi-academy trusts are the best way to advance education for the public benefit. They allow the strongest leaders to take responsibility for supporting more schools and they allow schools to collaborate by facilitating the sharing of staff, curriculum expertise and effective teaching practice.
Whilst there is no hard target or deadline to achieve wholesale structural change, the speech signals a departure from encouraging schools that wish to convert to academy status, towards an ambition for all schools to be part of a family of schools in a multi-academy trust.
As part of this announcement the Education Secretary launched a new 'try before they buy' option to allow maintained and stand-alone schools to explore the benefits of joining a strong trust to see for themselves first-hand what being part of a strong trust involves.
Collaboration benefits
Whilst we consider that together schools can become stronger, considering forming a trust or joining with another is a big decision.
If anyone would like to have a conversation about this renewed vision or to discuss exploring the benefits of working together as a strong group of local schools please feel free to contact me on 07584 243 989 s.darbyshire@cfat.org.uk
Best wishes,
Sue
Share this: