Professor Daniel Muijs - Deputy Director Ofsted
Professor Daniel Muijs - Deputy Director Ofsted
11 April 2019 (by admin)
Kingsbridge Teacher Training together with Forward Together and Westbridge Teaching School Alliance proudly present Professor Daniel Muijs – Deputy Director - Ofsted.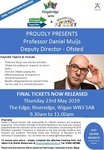 Key note topics will include:
- Professor Muijs role and the priorities Ofsted are putting on research to inform policy.
- How are Ofsted judging the effectiveness/use of research in schools/classrooms.
- Models of/approaches to research that can be used in a school/classroom
The event will take place on the morning of Thursday 23rd May 2019 at The Edge, Wigan, WN3 5AB 9.30am to 12.00 noon and JUST for £20 per delegate - to cover venue charges.
To secure your place - simply complete the attached booking form and return it to Alaina Shawcross at kingsbridge@cfat.org.uk.
For more information please speak with a member of the Kingsbridge team on Tel: 01942 487999.
Share this: